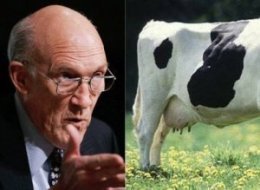 From the Huffington Post (among many other sites):
http://www.huffingtonpost.com/2010/08/24/alan_simpson_social_security_n_693277.html
"I've made some plenty smart cracks about people on Social Security who milk it to the last degree. You know 'em too...We've reached a point now where it's like a milk cow with 310 million tits!"
I don't know what to think of Simpson. He's blunt, and I mean that in a good way. We are becoming too dependent on government, and his quote expresses that.
However, he does seem to shoot his mouth off a lot and say some crazy stuff. Check out this site:
http://stuffalansimpsonsays.com/